When God placed Adam and Eve in the Garden of Eden, he didn't place them in a house. He put them in the middle of a lush garden filled with flowers, trees, shrubs, herbs, grasses, and all the scents and smells we associate with such a garden. These aromas come from the essential oils of the plants and are used to communicate amongst themselves, the animal kingdom, and people.
One thing we can learn from the creation story in Genesis is God intended us to live amongst the fragrances emanating from His plant kingdom via essential oils. If His Word says, beloved, I wish above all things thou mayest prosper and be in good health, John 3:2, and Proverbs 21:20 says there is a treasure to be desired and oil in the dwelling of the wise, then, we can deduce essential oils are one way God provided for us to prosper and be in health.
It has been proven, scientifically, essential oils are healing emotionally, physically, mentally, and spiritually. They are effective when you're sick and preserve your health when you're well. I can attest to the effectiveness of essential oils on all these levels and have had the pleasure of using them for 20 years. Whether through inhalation, topical application, ingestion, or a combination thereof, essential oils have kept me and my family in good health.
My daily regimen includes starting the day with several glasses of fresh mountain spring water (we're blessed with a mountain spring on our property), infused with a few drops of citrus oil. My favorites are Grapefruit, Orange, Lemon, and Lime. Citrus oils add a tart flavor, support cellular health, and help maintain a healthy weight. Most days I then combine some oils in my cold water diffuser. Today, fall is in the air enhanced by diffusing the crisp and warm aromas of Orange, Clove, Cinnamon, and Frankincense. Within seconds the molecules of these oils meet the receptors of my olfactory membrane, the smell is identified, sent from the olfactory nerve into the limbic system of the brain where emotional and psychological responses are determined. How many times have you caught a whiff of an old familiar smell that brings you back to a particular time? I love those moments. They're evidence that aromas indeed affect our emotions.
Next, I brush my teeth with an oil-infused toothpaste such as Thieves Whitening Toothpaste, rub my gums with Frankincense, place a drop of Joy in my belly button, apply Valor to the bottoms of my feet, Harmony to my wrists, Brain Power on my forehead, and I'm good to go! If anything unexpected comes up, I'm confident I have oil in my arsenal for it 🙂
When settling down for the evening, I'll often have a relaxing hot soak in the tub with Lavender infused Epsom salts. I apply Cypress on my legs for circulation and mix Frankincense and Lavender with ART Intensive Moisturizer, to maintain healthy skin. If I wake up in the night, I always have Lavender nearby for a quick aroma fix to soothe me back to sleep.
As you can see, I don't have to live in the Garden of Eden to benefit from the healing properties of essential oils. God gave us the plants, their oils, and the brains to figure out how to extricate them and apply them as part of His plan for our health.
I've always used and only vouch for Young Living Essential Oils, YLEO, because of their Seed to Seal quality commitment. You can be assured you have the purest oils on the planet that are safe for ingestion, inhalation, and application. Gary Young, the founder of YLEO, was a pioneer in bringing this old medicine back to the world, and his wisdom in the properties and uses of the oils is unsurpassed. I'll always be grateful for his life and the knowledge he brought to the world.
Bring the healing aromas of the Garden of Eden into your home and start your journey towards optimum health by joining YLEO with the Premium Starter Kit. You'll receive 12 of the most popular oils, a diffuser, along with samples of NingXia Red, a powerful sweet and tangy drink and whole-body supplement, and product literature on how to get started using the oils.
Happy Oiling!
Start your morning on the bright side with the natural power of Thieves® Whitening Toothpaste. Pure and safe ingredients combine to whiten teeth, fight plaque, support healthy gums, and remove stains without damaging enamel. Great for the whole family, Young Living's exclusive formula is both fluoride free and free of other harsh ingredients, offering you a superior clean you can be confident in. Grin from ear to ear knowing you made a fresh choice with Thieves Whitening Toothpaste.
Frankincense essential oil has a broad range of uses, from enhancing spiritual and meditative practice to use in beauty routines. Frankincense has an earthy, uplifting aroma that's perfect for grounding and spiritual connectedness. Create a safe and comforting environment by diffusing this oil's empowering aroma, particularly when you are seeking purpose or engaged in prayer or meditation. In addition to elevated spiritual experiences, Frankincense can help you maintain the appearance of radiant skin when applied topically. Its ability to smooth the appearance of healthy skin when applied topically explains why this oil is a key ingredient in Boswellia Wrinkle Cream™.
Create an environment of romance and warmth with Joy™ essential oil blend. With its combination of floral and citrus essential oils, including Ylang Ylang, Geranium, Jasmine, Palmarosa, Rose, Bergamot, Lemon, and Tangerine, this unique and feminine fragrance is sure to be a favorite. Diffuse Joy around the house for an environment that is pleasant and inviting or dab it on your neck and wrists for a natural floral perfume. This essential oil blend invites togetherness and is used adoringly all around the world.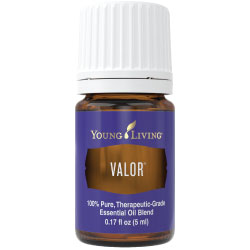 Valor® essential oil blend is one of Young Living's most popular products and was a favorite of Young Living Founder D. Gary Young. A truly unique blend of Black Spruce, Blue Tansy, Camphor Wood, Geranium, and Frankincense, Valor has a woodsy, grounding aroma that is great for massages and other topical and aromatic uses. Use it to greet each morning with a positive attitude or to refocus at the end of a challenging day.
Brain Power™ is a blend of essential oils high in sesquiterpenes—including Sacred Sandalwood™, Blue Cypress, and Frankincense—that can be enjoyed topically or aromatically.
Lavender essential oil has a scent that's a wonderful blend of fresh, floral, clean, and calm. It's this dynamic aroma that has made the plant a classic for perfumes, soaps, fresheners, and beauty products. As one of Young Living's most popular products, Lavender is a great beginner oil and a must for every home. Lavender essential oil isn't a favorite only because of its classic scent—it's also highly versatile. From skin care products to relaxing routines, this oil can infuse and enhance many areas of your life.
Cypress has a fresh, herbaceous aroma that can promote a sense of security and grounding.
ART® Intensive Moisturizer reduces the appearance of fine lines and wrinkles while delivering deep hydration for smoother, more supple-feeling skin. Formulated with naturally derived ingredients and enriched with skin-nourishing ingredients like pracaxi seed oil and blue hibiscus leaf extract, ART Intensive Moisturizer is the perfect way to pamper yourself while evening skin tone and giving your skin a shot of hydration.