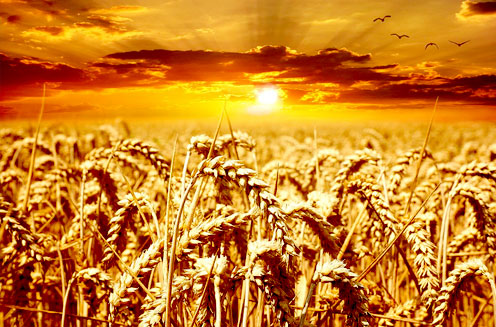 People say, "It's fine to have faith and dreams, but ultimately, you have to be a realist."

Well, you don't have to be a realist. In fact, you shouldn't be a realist. We're supposed to be like God, and God isn't a realist. God doesn't just accept things as they are. God doesn't limit Himself by the reality of the world. He made the world. If He were a realist, He would've just looked at the situation and said, "Well there's no light and we just have to accept that fact." Instead He said, "Let there be light!" And there was light. God never just accepts things as they are. He doesn't care how things are. In the same way, if you call yourself a child of God, then you also can't be a realist. You can't be bound by what is real.

You're not called to accept the world, you're called to change the world. Whenever you're faced by a situation of darkness, fear, gloom, anger or sin – don't accept it. Say, "Let there be light!" For God is your Father and your Father is no realist.

From Message #440 – The Sunrise Commandment Scripture: Genesis 1:3

TODAY'S MISSION – Don't be bound by your situation, your problems, your circumstances today – but live solely by the Word of God.
Commie Joe and the final looting of America is proceeding as planned without your help or support so have a great life as the youth continue to be sacrificed just as they were in Viet Nam. Those foolish enough to support the dem's along with the CCP will pay the ultimate price as soon as they receive the Jesuit Jab. Once injected the ability to think will be further diminished as their autoimmune system kicks into action destroying all quality of life.
Take a few minutes and listen to Mike Adams, the Health Ranger and carefully determine if you are prepared for the future. Biden is creating, with the aid of the CCP, FED and less fortunate a new world. It promises to be a doozy as the trusting proletariat continue down the road of business as usual.
https://www.brighteon.com/f6324fa0-39d6-44c0-ac99-65e559b5132b
The Bitcoin community is building something of lasting value; beneficial to those desiring to be free, private and decentralized, exhibiting proof of work. Of course having gold, silver, lead and crypto on hand has always been wisdom just as we've encouraged everyone to "Be Prepared" as learned in the Boy Scouts.
Have you noticed the $50 Trillion Elephant in dirty Fiat money? Bitcoin is eating gold just as Michael Saylor, CEO of MicroStrategy just swapped $425 million dollars of dirty fiat money for 38,250 Bitcoin.
Investing your money in fiat is like crossing the Atlantic in a rubber raft with a leak, putting money in gold is like crossing the Atlantic in a wooden ship while putting money in Bitcoin is like crossing the Atlantic in a steel hulled container ship taking risk down to zero. What will you do?
Bitcoin is digital gold; an ideal reserve treasury asset. Bitcoin is going mainstream because it is much more stable today than it was 3 years ago according to Michael Saylor of MicroStrategy.
The stimulus bill that is being pushed does not benefit the people, it benefits the [DS]/[CB] handlers who they have to payoff. There is no reason a stimulus money needs to go anywhere else except the people. The [CB] is losing control, they tried to push people away from Crypto its not working. The Fed system crashes after Yellen says Bitcoin is inefficient.
All source links to the report can be found on the x22report.com site.
Most of artwork that are included with these videos have been created by X22 Report and they are used as a representation of the subject matter. The representative artwork included with these videos shall not be construed as the actual events that are taking place.
Intro Video Music: YouTube Free Music: Cataclysmic Molten Core by Jingle Punks
Intro Music: YouTube Free Music: Warrior Strife by Jingle Punks
Fair Use Notice: This video contains some copyrighted material whose use has not been authorized by the copyright owners. We believe that this not-for-profit, educational, and/or criticism or commentary use on the Web constitutes a fair use of the copyrighted material (as provided for in section 107 of the US Copyright Law. If you wish to use this copyrighted material for purposes that go beyond fair use, you must obtain permission from the copyright owner. Fair Use notwithstanding we will immediately comply with any copyright owner who wants their material removed or modified, wants us to link to their web site, or wants us to add their photo.
The X22 Report is "one man's opinion". Anything that is said on the report is either opinion, criticism, information or commentary, If making any type of investment or legal decision it would be wise to contact or consult a professional before making that decision.
Use the information found in these videos as a starting point for conducting your own research and conduct your own due diligence before making any significant investing decisions.
The FED System is going down because it is the largest criminal organization in existence, as the people are awakening and pushing back. The central bank does not want to give up control as they create their own centralized digital currency. Bitcoin is decentralized which the FED strives to condemn & destroy:
https://rumble.com/ve5ayj-ep.-2413a-the-fed-system-goes-down-the-people-are-pushing-back.html?mref=6zof&mc=dgip3&utm_source=newsletter&utm_medium=email&utm_campaign=X22+Report&ep=1
Please note we are eternal optimist still believing Trump is going to turn this ship around within the next couple of months. Lin Wood, Sidney Powell, General Flynn are awakening the more intelligent and with the support of true Americans things are about to change for the better. God willing as real Americans take a stand.
"Silence in the face of evil is itself evil; God will not hold us guiltless. Not to speak is to speak. Not to act is to act."
-Dietrich Bonhoeffer